Does the World Need Another Real Estate Blog?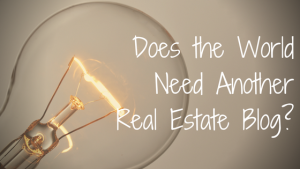 Refreshed and invigorated from attending Inman Connect in San Francisco this week, now is a good time to write an inaugural blog post on my brand new website (Thanks Style Agent)!  For my non-real estate readers, Inman Connect is like TED Talks for the real estate industry.
One of my big AH-HA moments from attending Inman Connect this week, was the reminder that my real estate practice is about you, my clients and friends, and not me. I've always known deep down, but I didn't know how to express it. The words kept hitting me and took deep meaning this week. I'll say it again… It's about you, not me. And I don't mean the "It's not you, it's me" break-up line.
You might get a good laugh at my title  "Does the World Need Another Real Estate Blog?" Blogging seems so 2005, especially another blog on a real estate website, but my blog will be different. I promise.
Here's my promise for this blog:
I will listen to YOU, the readers
I will post about the communities YOU live in
I will profile our community members YOU work with
I will research companies/services/products YOU want to hear about (but not a commercial because we all fast forward those anyways)
I will try to make YOU laugh because we all need a good laugh
Comment on what you'd like for my second blog post to be about…
First responder picks my subject. I'm serious, YOU get to pick. Fire away, I'm listening.