National Night Out — Tuesday 8/1!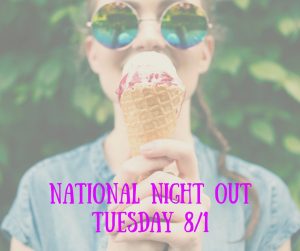 National Night Out is observed the first Tuesday evening in August annually. This year's NNO is Tuesday, August 1st. A national tradition celebrated across the US and Canada since 1984, National Night Out was created to increase awareness about police programs in communities by the National Association of Town Watch.  Events can range from small back yard BBQs to block parties and to full-scale festivals. The National Night Out website says, "Together we are making our communities safer, more caring places to live."
On the peninsula we are lucky to have several National Night Out Celebrations. Here are the details of a few local events:
White Oaks, San Carlos
Sunnydale Avenue between Stanford Lane & Elm St. — 5:30 to 8:30 PM
San Mateo County Sheriff and Redwood City Police will partake with vehicles and personnel. Dinner will be available for purchase from Speedy Panini and Whisk on Wheels food trucks plus there will be an ice cream social with free Marianne's Ice Cream provided by Robert's Market.
Alder Manor, San Carlos
Thornhill Drive between DeAnza Ave.  & Howard Ave. — 6:00 to 8:00 PM
Woodside Plaza, Redwood City
Maddux Park – 1615 Maddux Drive, Redwood City — 5:00 to 8:00 PM
5:00 pm Arts, crafts & games to start for kids on the lawn area
5:00 to 7:00 pm- Free Fingerprinting for the kids by the RWCPD and a classic emergency vehicle will be there for the kids to check out and take photos with
5:30 to 6:00 pm- Pizza will be served ($1 donation per slice much appreciated)
7:00 pm- K-9 Demonstration by the RWCPD
7:30 pm- Bake Off Competition Winner will be announced
Hosted by the Woodside Plaza Neighborhood Association
I hope that you can enjoy National Night Out in your neighborhood! Happy Summer!