An Interview with Renee Barton of Redwood Grill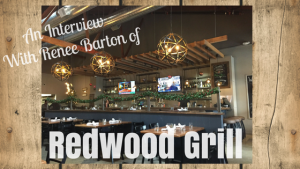 As you might have learned from some of my earlier blog posts, I am a big fan of community interest stories, especially when they are about local, entrepreneurial women. I recently sat down with Renee Barton, the owner of Redwood Grill in the Woodside Plaza shopping center in Redwood City. Redwood Grill opened this summer and has quickly become a locals' favorite restaurant.  Their menu focus is California comfort food and they have an excellent wine list plus a full bar… Need I say more?
Where did your inspiration from Redwood Grill come from?  For almost 20 years, my career was investor relations and operations in technology.  In my early twenties I worked in restaurants through college and to earn extra money. In the back of the mind, I always wanted to open a restaurant. I was most inspired for Redwood Grill because I felt there was a need.  The previous restaurant that was in this location was closed for two years in Woodside Plaza. I felt there was a market need for a neighborhood restaurant; I live nearby and there was nowhere you could take your kids for a better quality dinner or go out on a date night or friend's night – and be able to get a craft cocktail if you want one. It needed to be casual enough to bring your kids but upscale enough to not want go somewhere else if you want to head out for a cocktail. We serve a diverse audience, which is what I envisioned – families grabbing an early dinner, couples on a date night, groups of friends that meet.  I truly wanted it to become a neighborhood restaurant.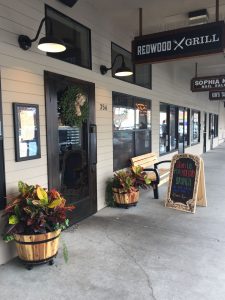 What's your favorite part about owning/running a restaurant?I love watching my customers have great experiences and create memories over meals shared with families and friends. We recently hosted an intimate wedding luncheon for a couple and their family. It is very meaningful that they chose to have their special luncheon at Redwood Grill.
I also love my team. I am blessed with amazing managers, wait staff, bartenders and kitchen team. It feels good to work with great people who collaborate and support each other.  I want to create an environment where people love to work and want to be successful; it can be difficult to do that and it's something I strive for.
What was timing for getting Redwood Grill started?  It took a year since we had to completely gut the previous restaurant space. None of the old components of the previous restaurant were up to current code or fit with the aesthetic I wanted. We knocked down the ceiling tiles and opened everything up and completely moved where the kitchen was located.  I hired our chef, Mario, three months prior to opening to help create and collaborate on the menu and set-up all of the back of the house operations.
Who helped you get started?  I have a couple friends in the restaurant that were great for advice and insight.  I also used a restaurant consultant for a couple months who helped me frame my business plan and look at the back-end/financial side of the business. I worked with  County Restaurant Supply and a local Redwood City designer on the layout and sourcing the materials/items to match my vision.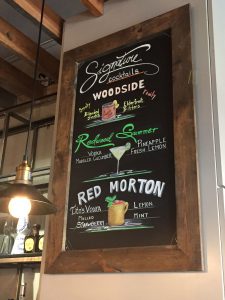 How do you balance running a restaurant and being a mom/wife?  It was actually harder to balance working with kids when I worked in technology. My old corporate hours forced me to be in the office at 8 and you had to wake up early, get everyone fed, lunches made, out the door to daycare/school, always be rushing and hurrying. I had to have help with pick up and shuttling to kids activities since I often didn't leave work until 5:00PM or later. And then it was the dinner/bedtime routine.  The ironic part is that I feel like my plate is fuller and busier than it's ever been in my life but my flexibility allows for me to be more present with my children.  My husband has been amazingly supportive and I also have the support of my parents and in-laws who are local and help us immensely. Now, my mornings aren't so jammed packed with rushing out the door, my son even walks here after school and while we are open in the afternoons he comes here for tutoring and often I can take my kids to their activities myself.
What is your favorite dish?  That's a hard question because I love a lot of our dishes and my heart is in the menu. I purposely worked with my chef Mario to create a California comfort menu. All of our dishes are simple with the freshest ingredients possible. We use free-range chickens and grass-fed beef. I love Lucy's Grilled Avocado and our Grilled Salmon. Chef Mario's tacos are one of our most popular dishes and we have worked very hard to perfect our burger.
What's coming for Redwood Grill?  We have several exciting things in the pipeline!
We recently started serving brunch on Saturdays and Sundays.  Over the holidays we will focus on brunch since both big holidays fall on the weekend and many people have family dinners at home. We will serve brunch on Christmas Eve, New Year's Eve and New Year's Day but we will be closed for dinner those to allow our team some extra time with their families.
We have created some special holiday-themed craft cocktails and are doing a Prime Rib special on Sundays. Soon we will be adding a pot pie special.
For Valentine's Day we will offer a special prix fixed menu and will expand special event and holiday dinners in the future.
Very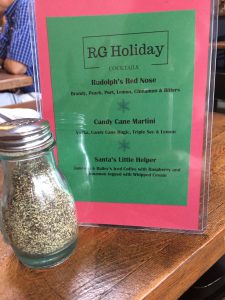 shortly we will start taking reservations on a limited basis. While we want to cater to our walk-ins since we are focused on being a neighborhood restaurant, we do want to set a small number of tables aside for the people that are looking to make plans ahead of time. We will do the reservations over the phone and on our website.
We've recently also launched our catering service and just catered our first 100-person event!
Many thanks to Renee of Redwood Grill for taking the time to sit down and chat with me. Redwood City has seen enormous growth in the last few years and Renee has done an excellent job filling a void for an awesome neighborhood restaurant in Woodside Plaza!