New Craft Coffee & Tea Café in San Carlos – Mints + Honey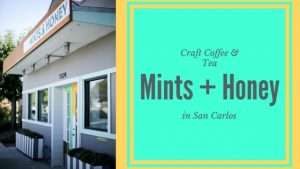 Tucked in the southern end of San Carlos, there is a brand new craft coffee and tea café, Mints & Honey. I sat down with one of the owners, Dot Teng, to learn more about their story.  The bright and sunny spot started as an event space in 2015 with frontage on El Camino Real.  Dot and her sister, Canna, always envisioned a café as part of their space, it took time and planning for their vision to come to fruition.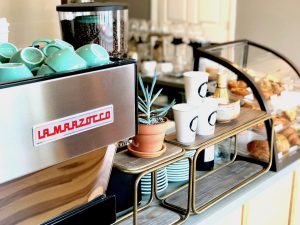 Dot and Canna's Mints & Honey journey began in 2005 when they partnered to start a floral design business, Mints Design. Their floral business grew and their work has been featured in Sunset magazine, the Knot, Style Me Pretty and many other publications. For several years they had a floral shop in Alameda. Recognizing the need for an event venue after styling and designing events throughout the bay area, they decided to find their own event space. Their first event space was in San Mateo and they ultimately landed at their current space in San Carlos.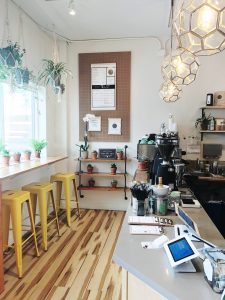 For those of you who have been to the numerous birthday party/event venues along the peninsula, there is a void of modern, bright and cheerful event venues. Mints & Honey fills that void with their adorable space. Their team can create bespoke events ranging from workshops, bridal & baby showers, tea parties and social gatherings. The El Camino Real side of their space is where events are held and in the back along the alley between White Oak Way and Central Avenue, there is a charming patio and the coffee and tea café. The icing on the cake for local families is a playroom for event and café guests. Dot and Canna both have three children and wanted their space to be clean, safe and kid-friendly. The two entrepreneurial sisters share responsibilities and hire stay-at-home-moms to help with their weekend events. Many of these moms are looking for ways to earn money outside of the house and be creative. They love to be working moms supporting other moms.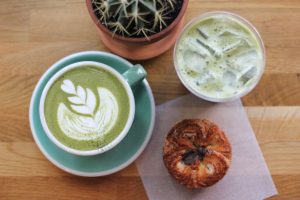 Handcrafted coffee and tea drinks are their specialties with a focus on organic, high quality, fair trade, non-GMO ingredients.  They serve Sightglass Coffee, tea by Art of Tea and use Clover organic dairy products. Their delicious baked goods come from Starter Bakery and are known for their extraordinary hand-crafted quality.
I love everything about Mints & Honey; their years of event planning and floral design are evident in their chic design aesthetic throughout the café and event space. Furnishings, light fixtures, displays, colors, and plants are all on point for a new artisanal neighborhood café.  Dot and Canna have created a unique spot in San Carlos and I think many of the people that were sad to see Vanilla Moon close, will love Mints & Honey.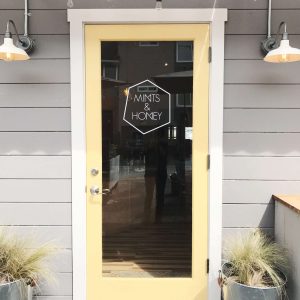 Mints & Honey is located at 1524 El Camino Real. Currently, their café hours are Tuesday – Saturday 8:00AM to 3:00PM. They may expand their hours in the future and have plans to start serving delicious house made bánh-mi. Be sure to visit the café soon; my favorite drink is the Earl Grey Rose tea with boba enjoyed with a yummy Starter Bakery quiché!